As a fan of adult-only resorts, I share your struggle in finding proper recommendations online.
If you looking for the ideal adult-only (read: no children, hallelujah) accommodation in Tunisia, look no further.
We've taken the most highly recommended adult-only resorts from our users' feedback as well as our local contributors to bring you a succinct and easy-to-navigate article to help you pick the best option.
Let's get started.
👀 Tantalizing Tranquility: Exploring the Top Adult-Only Resorts in Tunisia
1. La Badira Hotel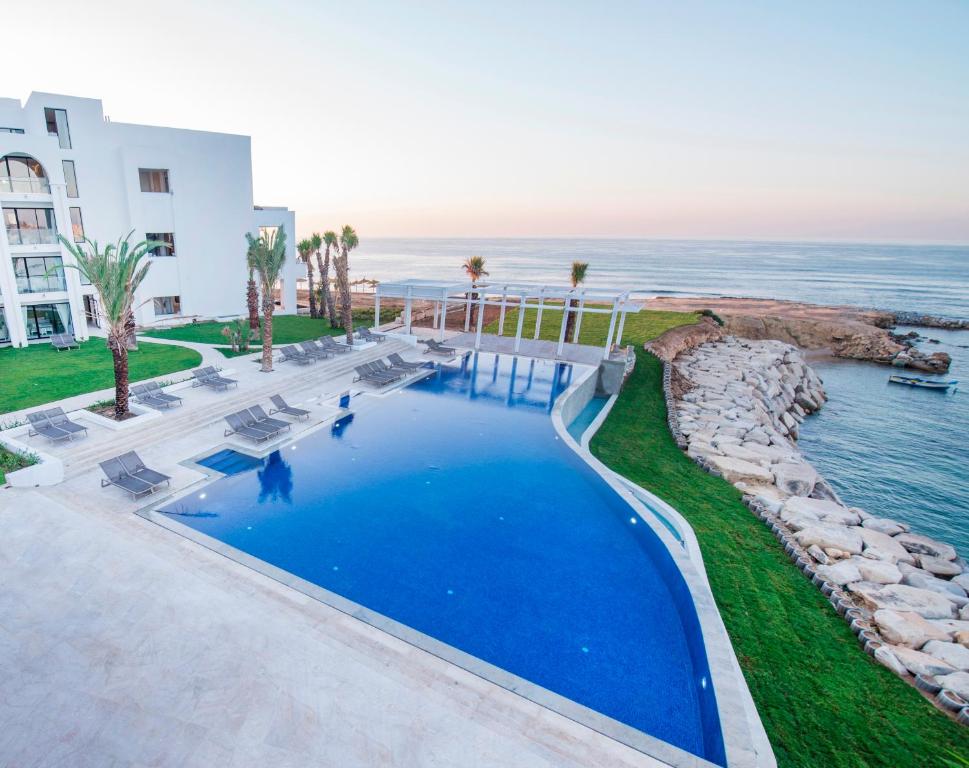 Learn More & Check Current Prices at La Badira 🔥
Boasting charming architectural-style contemporary rooms on the front of the golden shores of the beach, this exotic luxury hotel gets you in the mood for rest and relaxation with your loved one on a romantic holiday in Tunisia. 
Why do we recommend this resort?
Make your vacation in Tunisia an unforgettable and pleasurable experience by staying at this iconic luxury hotel, La Badira, which offers personalized experiences for couples. It has an amazing spa, high-class restaurants and shops, and an infinity pool looking out to the bay.
Spend your afternoons in the beautiful private beach areas, lounging on the cabanas. Take a stroll around the garden area to relax yourself with drinks and tasty food from the restaurant. Organize a picnic and enjoy plenty of grilled meats in the barbecue area.
Pamper yourself with beauty treatments at the spa center's massage room, sauna, and steam bath. You can work out at the fitness center and read a book at the library. Take a drive to Bell Azur Beach and historic monuments, including the ancient amphitheater, mosques, and noble houses, with your loved one to create unforgettable memories in this popular country in Africa.
Which room do we recommend for your stay?
Suite with Terrace
Unwind to the gorgeous views of the stunning Mediterranean Sea at this luxury private suite with beautiful all-white interiors and classy decor. It has a large double bed and a cozy chair to rest and rejuvenate with your loved one. Watch TV while relaxing on the beautiful sofa bed and dining on delicious meals in the separate dining area equipped with a coffee machine and a mini bar with lovely beverages. The beautiful spa bath on the outdoor terrace, gorgeous seating area, and champagne make you feel pampered in this room.
The air-conditioned room has a splendid balcony overlooking the lovely bay with outdoor furniture, perfect for having late-night snacks or evening beverages. Relish on the wonderful macrons offered in the room as a complimentary to your stay, along with stuffed dates and water bottles daily. Take refreshing showers in the gorgeous bathroom with a twin basin vanity, bathrobes, slippers, and a beautiful bathtub. It is a true retreat for the soul.
Learn More & Check Current Prices at La Badira 🔥
2. TUI Blue Palm Beach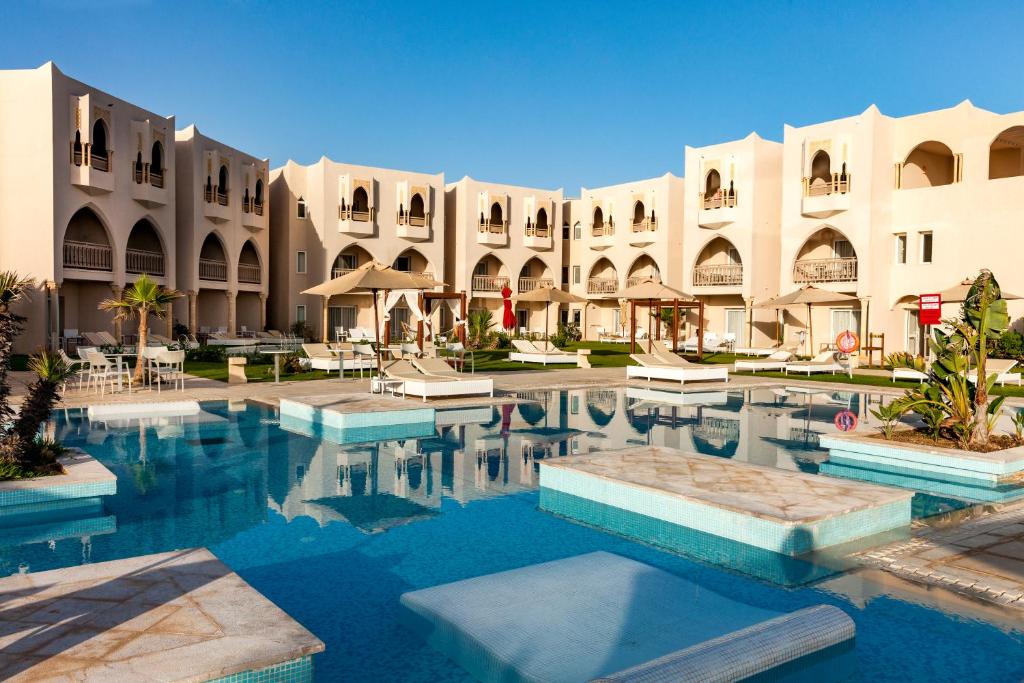 Learn More & Check Current Prices at TUI Blue Palm Beach 🔥
Have a magical stay at this luxurious 5-star hotel in Tunisia, featuring stylish rooms, a private beach, and plenty of shops, souks, casinos, bars, and restaurants in the vicinity.
Why do we recommend this resort?
Feel mesmerized with a comfortable stay at this elegant property on the beautiful island of Djerba, in the southeast of Tunisia, Africa. It is a modern hotel surrounded by beautiful palm trees, gardens, and a lovely private beach. The hotel has historical architecture and spacious rooms with contemporary decor and furnishings.
Visit this spa to indulge in massages, facials, and other beauty treatments to feel rejuvenated during your vacation. Relax on the private beach under the beach umbrellas with delicious cocktails from the bar. Swimming in the beautiful pool in the late afternoons and getting a hot workout in the fitness center or the steam room. Treat your partner to delicious dinners at the beautiful restaurants offering plenty of local dishes. The cafe is perfect for enjoying delicious coffee in the afternoon by the pool.
There are plenty of art galleries, museums, historical sites, and local jewelry shops to explore in the vicinity. You can join the authentic excursions offered by the hotel to gain plenty of knowledge about the local culture. Have a lot of fun with your partner by being adventurous in the ocean with water sports. Listen to local music and play beach volleyball with other guests at the property to spruce up your vacation.
Which room do we recommend for your stay?
Double Room with Swimming Pool Access
Feel at home in the spacious double room with a private entrance, soundproof walls, air conditioning, and a lovely balcony offering beautiful views of the hotel and the garden. The beautiful room has a large double bed, a flat-screen TV, and a separate work desk. Relax by the pool in the late afternoons by taking a swim or soaking up the sun on the gorgeous sunbeds.
The private pool feels like a luxury in the late nights, when you can enjoy a romantic candlelight dinner by the pool. The lovely bathroom has twin basins, a vanity, and a separate spa bath to take refreshing showers. Relax on the hammock in the garden with a book to get all the rest you need before you head back to your regular life. It is the perfect base for a relaxing retreat.
Learn More & Check Current Prices at TUI Blue Palm Beach 🔥
3. Ulysse Djerba Thalasso & Spa
Learn More & Check Current Prices at Ulysse Djerba Thalasso 🔥
A beautiful upscale hotel lined with tall palm trees, romantic restaurants, and a therapeutic spa is the perfect idyllic spot for the ultimate romantic retreat with your loved one in Tunisia.
Why do we recommend this resort?
This beautiful luxury hotel has a gorgeous outdoor pool, free private parking, a shared lounge, and gorgeous contemporary rooms with access to the indoor pool, room service, and entertainment. Lay down by the outdoor swimming pool to enjoy the Tunisian sun and rejuvenate your senses in the beautiful oriental spa center, where you can get plenty of beauty treatments and massages.
Head to the lovely Mezraia Beach to relax and rest from the hustle and bustle of life. Visit the tennis court to play a great game, and head to the coffee house for a delicious caffeine kick. Treat yourself to a therapeutic beauty soak in a hot tub to cap off your day. The fitness center is perfect for getting your daily dose of exercise. Relax in the gardens in the late evenings.
The hotel is perfect for enjoying the beautiful island of Djerba. Taste plenty of international cuisines at the beautiful main buffet restaurant. You can also plan candlelit dinners with your loved one at the different ala carte restaurants. Create unforgettable memories with your partner at this modern, sophisticated Tunisia hotel. 
Which room do we recommend for your stay?
Deluxe Double Room with Sea View
Featuring a lovely private entrance, a spacious double bed, and a balcony offering impressive views of the pool garden and the landmark, this is a lovely place to stay with your favorite person during your vacation in Tunisia. With a mild color palette and modern furnishings, this room provides the perfect romantic atmosphere for couples to enjoy plenty of downtime. Enjoy your favorite movies or shows on the flat-screen TV while sipping on beer from the minibar.
 Take advantage of the beautiful private pool to lounge and chill out with your loved one in the late afternoons. The beautiful exotic bathroom has two separate vanities with bathrobes, towels, and slippers. The separate shower is perfect for relaxing and rejuvenating with a hot bath.
Learn More & Check Current Prices at Ulysse Djerba Thalasso 🔥
4. TUI Blue Scheherazade Hotel
Learn More & Check Current Prices at TUI Blue Scheherazade 🔥
Named after the famous princess of the Arabian Nights, this ultra-luxury hotel has beautiful rooms with sea-facing balconies, an outdoor pool, bars, restaurants, and a refreshing spa for couples to enjoy a relaxing retreat in Tunisia.
Why do we recommend this resort?
Enjoy a quaint and peaceful stay at this gorgeous adults-only hotel in Sousse, Tunisia, boasting a huge courtyard setting with two large outdoor pools, a buffet restaurant, a lovely gym, and a beautiful therapeutic spa. The beautiful palm trees and gardens surrounding the property offer a lovely stay for couples looking for some downtime away from the worries of kids and routine life. Take a swim in the outdoor pool and enjoy delicious snacks and cocktails from the snack bar. Head to the private beach to get a tan by soaking up the Tunisian Sun while lounging on the gorgeous cabanas with umbrellas.
Treat your partner to fancy dinners at the beautiful restaurants that offer international, Mediterranean, continental, and local cuisine. The cafes are popular for trying out Turkish coffee and a variety of teas. Wake up to a spread of amazing delicacies at the buffet restaurant every morning, where they also organize theme nights for couples to enjoy plenty of specialties. If you are an adventurous couple, you can try out plenty of sports like beach volleyball, football, aqua aerobics, mini golf, tennis, ping pong, and darts.
Pamper yourself with facials, manicures, treatments, and haircuts at the beautiful spa with a special Turkish bath and steam room. Get your daily dose of exercise at the gym, which is right at the beach. Take a drive to the beautiful historical sites and museums that are famous in this big city. In the evenings, you can enjoy open-air cinema, live music entertainment, and dancing at the nearby bars and restaurants.
Which room do we recommend for your stay?
Double Room with Sea View
Spoil your partner with an enchanting stay in this beautiful room overlooking the blue Mediterranean Sea, a fine sand beach, and the city's skyline. It has olive green and white interiors with two single beds, a flat-screen TV, and a simple chair with a coffee table. It is the perfect spot to enjoy hot morning and late evening coffee while looking at the beautiful bay area.
The huge balcony offers spectacular views of the landmark, sea, and gardens, with outdoor furniture perfect for enjoying the cool breeze from the ocean. The gorgeous private bathroom has a huge vanity, fragrant toiletries, bathrobes, towels, slippers, and a separate shower. Spend quality time connecting intimately with your partner in this exotic room by the ocean.
Learn More & Check Current Prices at TUI Blue Scheherazade 🔥
5. Royal Tulip Korbous Bay Thalasso & Springs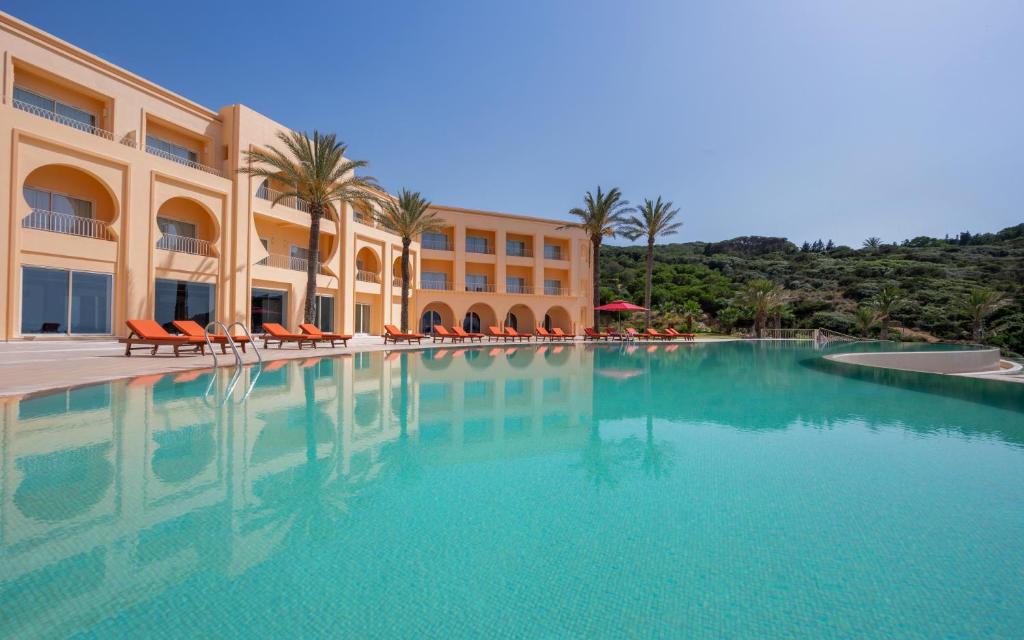 Learn More & Check Current Prices at Royal Tulip Korbous Bay Thalasso 🔥
This is a great adults-only property with a beautiful outdoor swimming pool, fitness center, restaurant, garden, and spacious rooms, making it a lovely coastal paradise for couples to enjoy a quite romantic vacation in Tunisia.
Why do we recommend this resort?
An outstanding five-star property in a fabulous location featuring golden sands and the turquoise blue waters of the Mediterranean Sea. The golden interiors with stylish furnishings offer a royal experience for couples looking for rest and relaxation in a romantic atmosphere. The sunbed-lined swimming pool with umbrellas makes it a lovely spot to relax in the late afternoons, overlooking the mountains and the beautiful ocean. The same spot becomes a vibrant party area in the late nights with glamorous lights and live music.
The property organizes plenty of late-night themed shows, musical performances, and parties for couples to enjoy a lovely vacation with their partner by mingling with other guests in the hotel. Hang out at the private beach area to relax and unwind in the cool breeze and sandy shores. Wine and dine with your partner at the restaurant that serves delicious Tunisian, Mediterranean, and international cuisine. The shared lounge area is perfect for watching your favorite shows or reading a book near the fireplace.
The magnificent chandeliers and lighting in and around the property make it a superb spot for a royal retreat. Visit the historical monuments, museums, art galleries, and local shops in the vicinity to get a taste of the local culture of this fabulous country. Go on a wine tasting with your loved one to enjoy the different delicious varieties of wines. Wake up to a fabulous breakfast at the restaurant and enjoy a shot of caffeine at the delicious coffee shop. This is a great choice for a stay in the historical city of Qurbus in Tunisia.
Which room do we recommend for your stay?
Deluxe Suite: 1 King Bed
Make your partner feel special with a comfortable stay at this lovely private suite with white and blue decor, giving it a lovely coastal vibe. The spacious room has a huge double bed, sofa, and coffee table. A little cozy dining spot filled with fruits and delicious chocolates. The spectacular balcony with outdoor furniture overlooks the bay area and gorgeous mountains on one side.
The splendid private bathroom has two separate vanities and basins and a spa bath perfect for a refreshing shower. Enjoy plenty of downtime in this wonderful room that makes you feel like a royal with its aesthetically pleasing decorations and premium amenities, including a flat-screen TV, a minibar, a coffee maker, and soundproof walls.
Learn More & Check Current Prices at Royal Tulip Korbous Bay Thalasso 🔥
6. Maison Dedine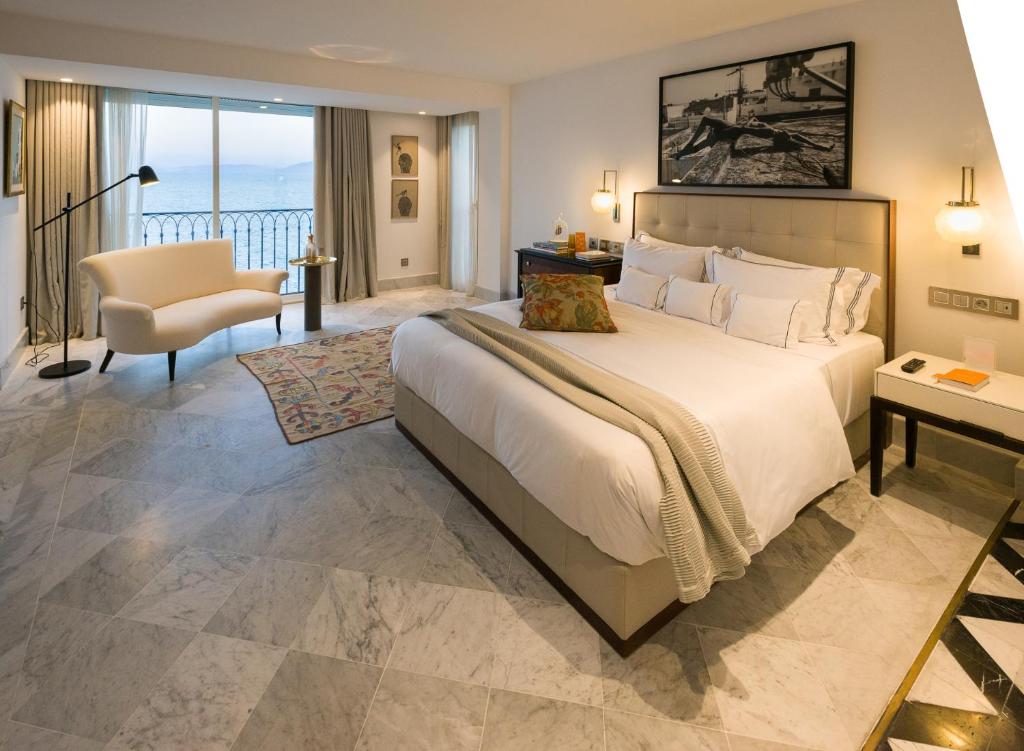 Learn More & Check Current Prices at Maison Dedine 🔥
Treat yourself to an authentic Tunisian vacation at this boutique seaside hotel near Tunis, which offers stylish rooms with Bay views, impressive restaurants, a relaxing spa, and plenty of adventurous water and road activities.
Why do we recommend this resort?
If you are looking for a fabulous stay in the heart of the capital city, Tunis, this beautiful luxury hotel is the perfect choice. This hotel is a great place for an ideally romantic retreat, boasting high-class facilities such as air-conditioned rooms with room service and beach-view balconies, an outdoor swimming pool, and a trendy bar. The living room has authentic Tunisian decor, and the antique chairs offer plenty of comfort for relaxation. The rooftop terrace is perfect for indulging in extensive beauty treatments and massages at the spectacular spa, which offers panoramic views of the ocean.
The combination of local regional decor and contemporary amenities makes it a lovely spot for couples to unwind near the splendid beach promenade of Tunis. Take a drive to the archaeological Museum of Carthage and other historical places in the nearby towns. Explore the wonderful coves in the seaside setting and try your hand at scuba diving, kayaking, windsurfing, and paddle boarding with your loved one to bring out your wild side.
Relax in the late afternoons in the infinity pool, where you get beautiful views of the Mediterranean Sea, making it an irresistible stay. Participate in rooftop yoga sessions to breathe in the cool sea breeze and rejuvenate your mind and body. Explore the wild landscape of this beautiful country by enjoying horseback riding or biking on the trails. If you love antique shopping, head to the souks and other shops to get a glimpse of lovely artistic things and jewelry. It is a Boho haven for couples who love to connect intimately against the backdrop of sparkling blue seas, golden sands, and breathtaking architecture.
Which room do we recommend for your stay?
Double Room with Balcony and Sea View
Surprise your partner with a splendid stay at this gorgeous sea-facing property featuring a gorgeous extra-large double bed with a rooftop window offering standing views of the mountains and natural greenery in the vicinity. The spacious room has simple artwork and stylish decor, which give a cool atmosphere and romantic vibe to the entire place.
Enjoy a delicious breakfast, lunch, or dinner on the gorgeous terrace with simple outdoor furniture. It is a cool spot to enjoy plenty of private time with your loved one while soaking up the sun and gorgeous views of the turquoise waters. The sophisticated room has a stovetop, electric kettle, private dining area, and minibar and coffee machine. Watch your favorite movies on the beautiful flat-screen TV in the living room. The private bathroom is comfortable, with a separate shower and a vanity. The beautiful, elegant room will make you smile while you create splendid memories with your loved one.
Learn More & Check Current Prices at Maison Dedine 🔥
7. Dar Corniche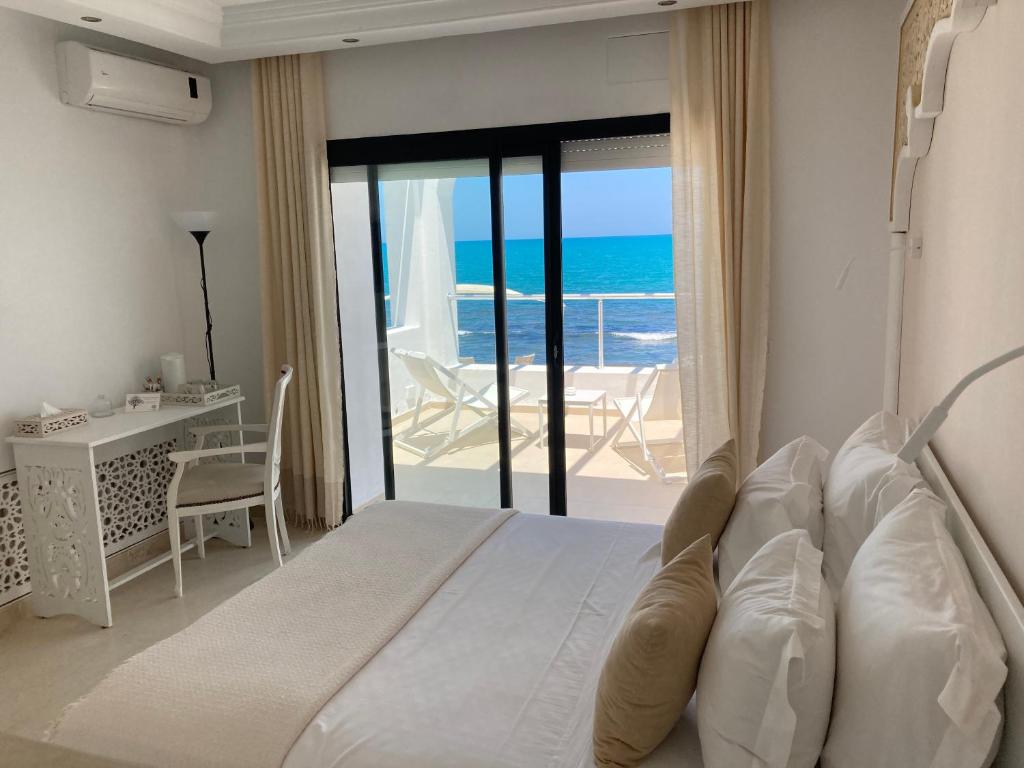 Learn More & Check Current Prices at Dar Corniche 🔥
This splendid boutique hotel is located in one of the most expensive localities in Tunisia that offers couples wonderful sea view rooms with an outdoor pool, a library, and a terrace for enjoying a lovely romantic retreat in La Marsa.
Why do we recommend this resort?
Surprise your partner with a stay at the gorgeous beachfront guest house in La Marsa, an authentic Tunisian residential area with fabulous premium amenities. This three-star hotel features a lovely sunbathing terrace and an outdoor swimming pool for guests to enjoy basking under the Tunisian sun.
This property is a hidden gem by the sea, offering beautiful cliff views and a beach just a short walk away. The rooms are beautifully decorated and have balconies to enjoy the cool sea breeze. Enjoy a delicious breakfast in the mornings at the restaurant, which includes a spread of sweet pastries, local cheese, and chilled beverages. Get pampered at the beautiful spa with beauty treatments and massages as a couple.
Explore the neighborhood by visiting the beautiful archaeological monuments, museums, mosques, and local markets to get a glimpse of this lovely historical country. This location is perfect for diving, swimming, kayaking, and paddle boarding at the beach.
Which room do we recommend for your stay?
MiskEllil Sea View
Feel at home in this gorgeous sea-facing room with its large double bed and comfy work desk. The gorgeous balcony offers splendid views of the mountains and the wonderful Mediterranean coast.
The lovely private bathroom has a twin basin vanity with a separate spa bath and a walk-in shower area for taking relaxing bubble baths. It sports a private entrance with soundproof walls, a flat-screen TV with cable channels, and a mini bar stocking plenty of chilled beverages.
Learn More & Check Current Prices at Dar Corniche 🔥
What did we consider when ranking these resorts/hotels?
Of course, you'll be curious, what makes the #1 the #1?
Privacy and Safety
Each of the hotels we have recommended has some of the best privacy and safety features catered especially for the adult-only guest. By providing privacy to the guest, these hotels ensure their safety and security. Be it an accommodation in the woods of Poughkeepsie or at the heart of Times Square it was our duty to ensure your stay is protected within your personal space while lodging.
Customer Satisfaction
When guests look for adult-only hotels in New York, it significantly becomes obvious that customer satisfaction needs to be maximum. All our recommended hotels or resorts have achieved great reviews for their amazing hospitality leading to higher customer satisfaction levels. We believe the higher the guest is satisfied, the more likely they are to recommend our services to others.
Ethical Consideration
We understand that life sometimes needs to take a break. However, respecting guests' requirements with utmost sincerity should be the hotel's commitment. The hotels mentioned above are known to treat their guest with the highest dignity and respect which contributes to a positive stay of the guest thus generating a positive reputation and increased trust among the customers.
Food & Drinks
What kind of a hotel experience would that be if the food and drink options are bad, right? Hotel stays are all about gaining wonderful experiences. Food and drinks elevate those experiences leading them to have a higher standard of getaway. It's all about the comfort and relaxation that the hotels are willing to offer to their guest. All our recommended lodgings have great options for food and drinks to unwind and feel more at home.
Comfort
Off course! Providing comfortable accommodation is the only priority for the hotels and also for us. It's crucial for the hotel's success and also for the overall experience of our guests. The listed properties provide more than essential customer satisfaction ratings to offer the best comfort and well-being. These above-listed hotels are brand conscious, and thus takes it as a critical element in offering every little ounce of comfort for their guest with the hope that they retain their guest forever.
Values
Honesty and transparency are one of the most elementary methods for us to choose our listings. We prioritize the quality of the property in all aspects of its operations, from hospitality, cleanliness, safety, privacy, maintenance of its facilities, food, and beverages offerings, and overall the guest's experience. Every hotel we recommended upholds the highest standards of value-driven integrity that treat its guests, employees, and stakeholders with ethical behavior and fairness.
Location
The location of the hotel can tell a lot about its customer base. Whether you wish to lodge in the creeks or in the middle of a bustling city, it's all about the convenience you'd prefer. The locations of the hotel impact the success and the guest's overall experiences. So our recommendations are suited for customers who wish to reach arrays of options for their adult-only getaway.
Frequently Asked Questions
What is the budget for adult-only hotels in New York?
This completely depends on the services and amenities one wishes to take. Some of our recommendations start from $90 and go up above $1000. The estimated price can only be calculated after being very clear on the kind of lodging deals one wishes to choose.
Are adult-friendly hotels safe?
Off course! Popular adult-only property has some of the highest safety and privacy standards. It's not just for the guests but also for the brand's reputation for attracting more guests. A positive brand needs positive customers. Thus making it their priority to ensure their guests feel safe, comfortable, and well-cared for.
How is the experience in adult-only hotels?
Providing valuable and satisfying experiences via hospitality, food, drinks, room services, concierge services, and others hotels ensures that their guests enjoy a good deal of their time within their property. In addition, by prioritizing their guests, they build a positive image thus making sure that their services are known to everyone.